This was a fun project from back in 2012.  The client had a sloping piece of yard they wanted to make into garden beds.  At first, judging by eyeball, i figured we could build more or less rectangular beds, given the slope and how we would cut steps or small pads into the hillside to hold the raised beds.
It's always fascinating to see how the final product has to change to fit into the landform though.  Because the piece of hillside was functionally a "micro-ridge" it sloped downhill in three different planes.  So when i cut the earthen pads that the raised cedar beds were going to rest upon, i had to modify the shape of the wooden boxes to fit that new shape.  So the raised beds wound up taking on an interesting trapezoidal shape.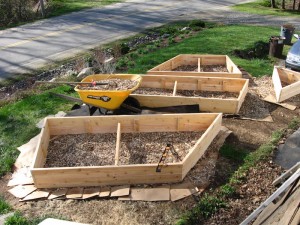 It was an interesting exercise in design-by-constraint where the constraining factors here were landform and access.  The landform sloped away in multiple planes and we had to make sure to provide wide path access, allowing for lush growth in the raised beds that would impinge on the walkway.   In the above photo, you can see that we sheet mulched the level pads before placing the wooden boxes on top.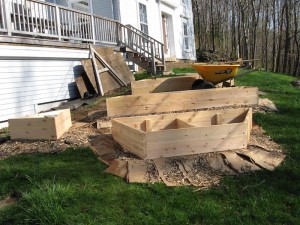 Here's a view from downhill, and while it's hard to see, the ridge slopes downhill (toward the camera angle) to the right and to the left.  So in finding the contour shapes using the A-frame level you can see in the background, we discovered that rectangular beds weren't going to fit.  Good thing we leveled the earthen pads before we built the boxes!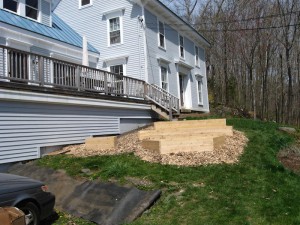 Here the raised beds are finished an sitting level, nested into the slope.  This serves as an example of changing a "problem" of using sloping land into a solution of raised vegetable beds.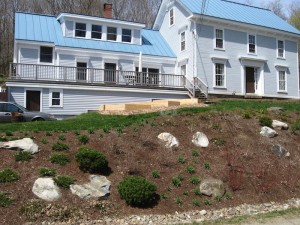 The hillside perennial garden system is young, and you can see how the raised beds above fit nicely into the hillside.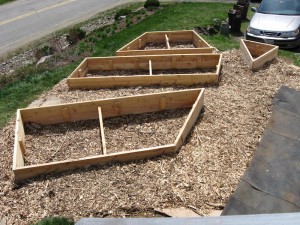 This is a view from the deck that we built the year before showing the finished trapezoidal shape of the raised beds and wood chip mulched garden paths.  Last year (2016) in the triangular bed, the clients grew sunflowers that topped out at 16 feet tall!
Save