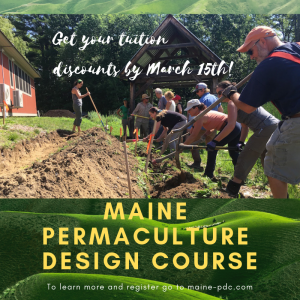 Be part of creating a better future. Change the way you see the world.
Join The Resilience Hub & Midcoast Permaculture as they surpass their 20th internationally-recognized Permaculture Design Certificate (PDC) Course. This one-weekend-per-month format is ideal for anyone who would not typically be able to take two weeks off from life/work to take an "immersion" PDC.
Please take some time to review all the information about this course on our website before registering!  When you're ready to register, click here.
Our summer Maine PDC this year returns to MOFGA's Common Ground Education Center in Unity, Maine. The expansive campus and spacious buildings make for an ideal learning environment within traveling distance to many field trip sites.
Course Dates (Please mark your calendar!):
May 18-19
June 29-30
July 12, 13, 14
July 26, 27, 28
Aug 23, 24, 25
Before you register, make sure you check our Sliding Scale Tiered Pricing structure for the PDC Tuition. Based on your household size and income, you will either be TIER #1, #2 or #3 which affects the total price you will pay for the PDC.
The Resilience Hub is one of the most experienced permaculture design and education groups in the Northeast US, though there are many other great ones! We strive to achieve very high quality in our programs and are committed to continuous improvement.
PDC Overview and General Information – Course Topics, Learning Environment, Teaching Team, Testimonials
Choosing a PDC – Learning Outcomes, Who Should Attend, Time Commitments, Career Pathways & more
Course Logistics – Schedule & Flow, Food & Hospitality, Accommodation, Transportation, etc.
Enrollment & Registration Details – Course Costs, Sliding Scale, Work Study & Discounts, Attendance Policy, etc.
Our courses typically sell out so make sure you register and make a deposit to hold your space.