As we pour over seed catalogs huddled next to the stove, it is a good time to begin dreaming and scheming for our gardens this coming year.  And the best way to begi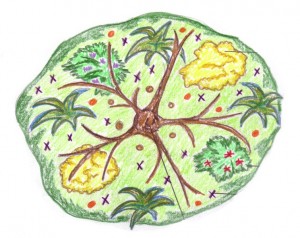 n the garden is with good design.  Of course, sustainability and resilience is on everyone's mind these days, and so with that in mind we're pleased to announce that we'll be teaching an 8 hour Introduction to Permaculture course in Rockland at the UU Church.  We will focus on the subject of goals for the garden, design of the garden, and sustainability in the garden and how that connects to the rest of society.
Permaculture – the Art of Ecological Design
Permaculture is a design system and set of techniques for creating resilient human habitats and healthy ecosystems. It is modeled on ecological principles and takes into account food production, shelter, energy, water, wellness, community, culture and economics. In this 8 hour intro course students will gain a strong foundation for applying permaculture ethics and design principles. We will cover topics including: a permaculture design process, forest gardens & perennial polycultures, water management, earthworks, pattern literacy, and garden management.
Dates for this course are April 2, 16, 23, 30; 6-8pm at the Unitarian Universalist Church of Rockland, 345 Broadway.  Cost is $60.  Class size is limited so register early!  To register email watson (at) midcoastpermaculture.com