Mid Winter Greetings everyone!
As we pour over seed catalogs huddled next to the stove, now is a good time to begin dreaming and scheming for our gardens this coming year.  And the best way to begin the garden is with good design.  The way to do that is to first consider the goals for the year and any adjustments you might make to design and management.  Of course, sustainability and resilience is on everyone's mind these days, and permaculture offers a unique approach to design to achieve just that.
If you've been wondering how permaculture might be able to help with your landscape's design challenge, now is the perfect time of year to contact us for consultations and design projects!  Remember that "well begun is half done."  So before you go and buy lots of trees and shrubs make sure to do a thorough goal setting and design process, site preparations and earthworks.  To ensure the success of your investments in plant stock you'll want to "plan, prepare, then plant."
With that, here are a number of permaculture related events of interest.  Some are here in the Midcoast and some are elsewhere.  Some are free and some have fees.  Take a look, tell us what you think, and keep in touch!
Food Sovereignty vote in Rockland January 9 6p.  6-6:15 is reserved for public comments (limited to 5 minutes each) so you can come and voice your support.
Free Presentations
Blue Hill Grange talk Jan 18, 6p
Brunswick land trust presentation Jan 29 2p
Vose library presentation in Union. Mar 9 7p
Upcoming Permaculture Classes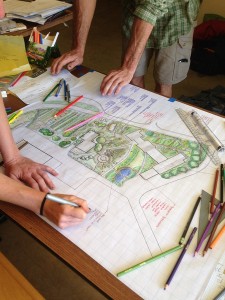 Boston winter PDC (one weekend a month, starts Jan 14-15).  $250 deposit to hold your spot. We have space for 1-2 more people so tell your Boston friends to act quick and register before this course sells out!
Introduction to Permaculture lecture series.  Camden adult ed.  4 week course starts Jan 25, $35.
Hurricane island Intro Course May 13-14.  More details soon.
Summer PDC Freeport.  Details here or here
Farm-scale PDC details forthcoming (likely next fall-winter)
Here are some testimonials from our past courses.
Also, save the date for the Permaculture Association of the Northeast winter retreat at D Acres Feb 24-26
Save