Learn the basics of Permaculture design on Hurricane Island–a Maine coast island retreat
Unique characteristics of this course:
Learn foundational practices of the design process including goal setting, observation exercises and base mapping considerations
Gain a systematic understanding for how to analyze the ecological context of your site, how to design, and what steps to take first during the installation phases
Retreat setting on an idyllic island on the coast of Midcoast Maine with meals catered for us.  Learn about off-grid electrical and composting waste systems.
Dive into a thorough treatment of the design process so that we can dispel the anxiety of not knowing where to start
Use the island camp as a thought experiment.  So we can be creative in our design ideas while we practice designing for resilience!
12 contact hours
Spend 2 days on beautiful Hurricane Island gaining first-hand understanding of Permaculture design with Jesse Watson of Midcoast Permaculture Design. Participants will learn how to design their home gardens for resilience and sustainability.  Permaculture is a regenerative design system and set of techniques for creating resilient human habitats while increasing ecosystem health.  It is a synthesis of wise human behavior taken from both modern and ancient sources of inspiration.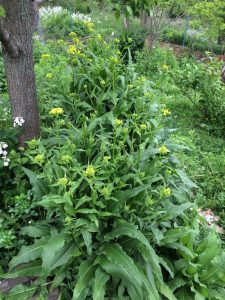 Topics include:
Designing for Resilience & Sustainability
Permaculture Design Methodology
Goal Articulation
Analysis Techniques and Options
Tree Crops & Perennial Food Systems
Home/Garden/Farm Applications
Reading the Landscape and Data Collection
Real Life Examples and Strategies
Dispel Feelings of Not Knowing 'Where to Start'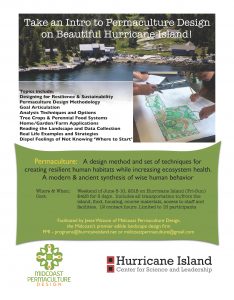 **Please plan to depart from Hurricane's mainland office (19 Commercial St, Rockland, ME) for transport out to Hurricane Island on the first day of your program. The boat will depart from the mainland at 5pm on the June 8, 2018. Please plan to arrive at least 30 minutes before departure time. Your return transport will depart Hurricane Island at 3:30pm on the last day of the program, returning you to the mainland around 4:30pm. PLEASE PLAN ACCORDINGLY. More information is provided upon registration. Please reach out with questions to registration@hurricaneisland.net or 207 867 6050.**
Where & When: Weekend of June 8-10, 2018 on Hurricane Island
Cost: $425 for 3 days.  Includes all transportation to/from the island, food, housing, course materials, access to staff and facilities.  12 contact hours. Limited to 15 participants
Facilitated by Jesse Watson of Midcoast Permaculture Design, the Midcoast's premier edible landscape design firm
Students often come away from our courses with new ways of seeing, thinking and acting in the world.  We strive to give participants in our courses a positive vision for the future and practical tools to make it so.  Register at the link below!
Co-sponsored by:  Midcoast Permaculture Design and Hurricane Island
Link to testimonials: http://resiliencehub.org/pdc-testimonials/
For more information please email programs@hurricaneisland.net or midcoastpermaculture@gmail.com